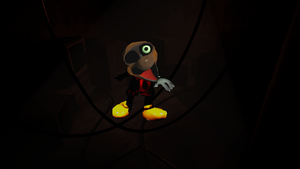 Please read this before moving on!
Edit
'''This Page belongs to User:Haxguy Le Fox'
This article is owned by User:Haxguy Le Fox, if you wish to edit this page, please ask him on his wall before editing, if you edited without permission, it will be undone
Fleshpound

Information
Species:
Mouse
Gender:
Male
Color(s):
Skin, Black
Starting location:
CAM 5
First appearance:
HARDCORE MODE
Apperance
Edit
He appears to be Nightmare face, but with a much more distorted look and old. He has no ears, no hands, missing half his body, and seems to be made of flesh. He is also missing half his body.
Behaviour
Edit
He starts in the Bathroom off screen. In HARDCORE MODE, He will crawl out of the stall door, and go to the Meat Freezer, Character Prep 1 Staff Area, Roof, and the office
flesh bathroom.png