Appearance
Edit
Now She Looks Different But Still Have Bloody Eyes, No Feets And Hands And Her Hair Is Ripped Off. In New, Her Ear Is Ripped Off, Her Black Blood From Her Jaw Is Coming Out And She Also Has Black Flower On Her Chest
Locations
Edit
She Will Start At Character Prep 1 Then She Will Move To Any Random Places.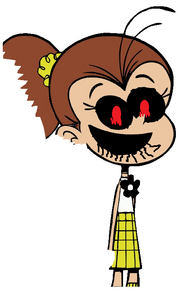 Character Prep 1 
Stuff Area 
Lounge 
Then Office 
Behavior
Edit
She Will Move In Night 3 But A Rare Chance To Move In Night 2, She Can Say The Following Thing:
"Why Aren't You Liking My Jokes."
"I Wanna Go Home."
"Hey! Did You Hear The One About The Thief Who Stole A Calendar? He Got Twelve Months!"
"Laughs."
"Come Here!"
Luan.EXE Is The First Loud House and Nickeloden Character to appear But Not Real
Her Third Quote Is A Reference From The Episode Called, Get The Message.
Her Jumpscare Sound Sounds Similar To The Hell Bound Characters From The End Of Disney.
I Added A Remastered Verison Of Her
When She's In The Office, Hide The Desk Or Else She Will Kill You.
Luan Loud.Exe Jumpscare Frame