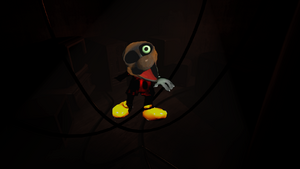 Please read this before moving on!
Edit
'''This Page belongs to User:Haxguy Le Fox'
This article is owned by User:Haxguy Le Fox, if you wish to edit this page, please ask him on his wall before editing, if you edited without permission, it will be undone
Apperance
Edit
The Old Suits room appears to have rusted, metal walls, with three large boxes. The most reconizable feature, are the suit heads scattered about the place, and three mickey suits hanging from the celing. The Beak can be seen behind one of the boxes, The Rat starts off screen, and The Sailor is lying on the floor. [[Old Oswald]] , Daisy's Body, Old Impure Mouse, and Goofy go into this room.
. This is the only room Daisy's Body can go through without her head, thus this is where she gets them.
Ad blocker interference detected!
Wikia is a free-to-use site that makes money from advertising. We have a modified experience for viewers using ad blockers

Wikia is not accessible if you've made further modifications. Remove the custom ad blocker rule(s) and the page will load as expected.