Desription
Edit
Panchito is a character that was left unfinished.
Appearance
Edit
Panchito has his normal look, but with discoloration in the tail feathers, and no hat.
Behavior
Edit
Panchito is very similiar to José "Zé" Carioca, as he starts on Night 2 and rarely appear on Night 1.
Panchito can be seen staring at the player, along with José.
Locations
Edit
Soon.
• Panchito might start in Latin Cove.
• Panchito and José might be connected in some mysterious way.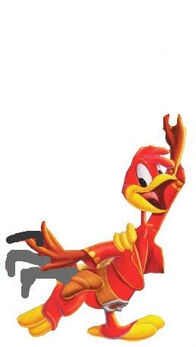 Ad blocker interference detected!
Wikia is a free-to-use site that makes money from advertising. We have a modified experience for viewers using ad blockers

Wikia is not accessible if you've made further modifications. Remove the custom ad blocker rule(s) and the page will load as expected.