He starts off in the Meat Freezer, he can move into the Lounge and go to his office.
He can rarely starts in Night 3,if appears in your office,turn off the power! And with power off and he appears in your office,hide under the desk.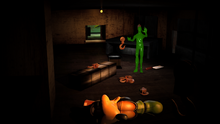 And he seems to be Undying's brother, there can rarely be a halucination saying, "You know what you did." It may appear rarely in pirate caverns.
Ad blocker interference detected!
Wikia is a free-to-use site that makes money from advertising. We have a modified experience for viewers using ad blockers

Wikia is not accessible if you've made further modifications. Remove the custom ad blocker rule(s) and the page will load as expected.