Character is offically being updated to be better by Mr. Manatee...
UPDATE!!!: Spring Oswald now has an ENTIRELY NEW MODEL THANKS TO MANATEE! : D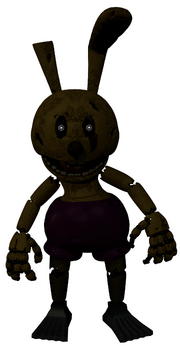 Information
Edit
Spring Oswald is a fanmade antagonist. He is a springlock animatronic resembling Oswald. Noticeably, he has a human corpse inside him, much like the original Springtrap from FNaF 3. He also shares many parts with Springtrap, most notably the feet and arms and hands. He wears faded purple shorts, and in JacksonFNaFFan's canon, he and Oswald are best friends.
(More info coming soon...)
The model was kindly made for me by Mr. Manatee. I am really grateful for him making this character much better.
Ad blocker interference detected!
Wikia is a free-to-use site that makes money from advertising. We have a modified experience for viewers using ad blockers

Wikia is not accessible if you've made further modifications. Remove the custom ad blocker rule(s) and the page will load as expected.