ten nights at disneyland is a fangame who is created by sans
when disneyland will abandoned, a new local is created, when Original mickey and Oswald 2.0 is in on
protagonits
Edit
???
phone guy
Withered Photo Negative Mickey
the guard just have doors and ventilations, the doors can close and the ventilation are in the camera who is will close the ventilation for withered PN mickey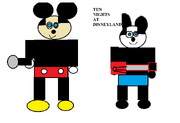 Ad blocker interference detected!
Wikia is a free-to-use site that makes money from advertising. We have a modified experience for viewers using ad blockers

Wikia is not accessible if you've made further modifications. Remove the custom ad blocker rule(s) and the page will load as expected.