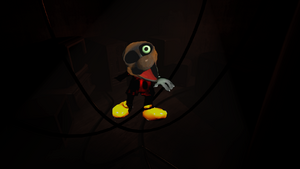 Please read this before moving on!
Edit
'''This Page belongs to User:Haxguy Le Fox'
This article is owned by User:Haxguy Le Fox, if you wish to edit this page, please ask him on his wall before editing, if you edited without permission, it will be undone
Appearance:
Edit
The Conjoined

Information
Species:
Chipmunk
Gender:
Male
Color(s):
Brown, Tan, Red, Blue, Yellow, Green
Starting location:
Maintenance Room
The Conjoined is a Corruptus/stone statue. It was made when a child was horrified by statues of Chip And Dale. He has one body and both of the chipmunk's heads on one body. Dale's head is eyeless and has no teeth. Chip's head is torn to shreds.
Behavior
Edit
TBA
Ad blocker interference detected!
Wikia is a free-to-use site that makes money from advertising. We have a modified experience for viewers using ad blockers

Wikia is not accessible if you've made further modifications. Remove the custom ad blocker rule(s) and the page will load as expected.