The Rat

Information
Species:
Mouse
Gender:
Male
Color(s):
Grayscale, Green
Starting location:
Janitor's Closet
First appearance:
Night 5
  The Rat is a unofficial antagonist in Five Nights at Treasure Island. 
Appearance
Edit
The Rat appears to be a Mickey suit, but without ears, legs, and eyes, as well as a dirty face and gloves.
Behaviour
Edit
He starts in the Janitor's Closet, offscreen. He will then get up, and go to the Bathroom, Meat Freezer, Lounge, and then the Office. The player must shut off the power to survive. When active, he can say the following things:
"Why are you still here?"
"They should never have hired you."
Concept Phases
Edit
Through time, The Rat's apperance changed a lot.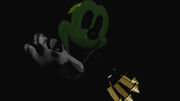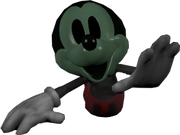 Ad blocker interference detected!
Wikia is a free-to-use site that makes money from advertising. We have a modified experience for viewers using ad blockers

Wikia is not accessible if you've made further modifications. Remove the custom ad blocker rule(s) and the page will load as expected.